Jaw Surgery
Corrective orthognathic surgery combined with orthodontic treatment.
About Corrective Jaw Surgery
For certain patients, orthodontic treatment alone cannot completely address the patient's dental and skeletal issues. If the root of the problem is the alignment of the jaw, which stems from atypical skeletal growth, surgery accompanied with braces may be the best choice to correct the bite.
Corrective jaw surgery, also known as orthognathic surgery, is performed to correct functional problems as well as cosmetic problems. This may include the misalignment of jaws and teeth, uneven asymmetrical jaw growth, and other dental irregularities that go beyond tooth alignment.
Corrective jaw surgery (orthognathic surgery) Jaw surgery can, in some cases, result in drastic changes to the patient's appearance, especially in patients with strong lower jaw.
Patients often have lots of questions about jaw surgery including the aligners or braces cost for corrective jaw surgery. Keep reading to find answers to all your questions.
Conditions that may indicate the need for corrective jaw surgery
Difficulty chewing or biting food
It can be difficult to chew food at a normal rate without pain or discomfort If the jaws are not in proper alignment. This can negatively impact a patient's quality of life.
Receding or protruding lower jaw and chin
Alignment issues and damage can occur if the upper and lower jaws are not correctly proportioned in relation to each other.
Jaw surgery is one option for helping patients with sleep disorders. This procedure helps the jaws, tongue and throat to move forward creating more space in the airway path. This treatment is one of Dr. Rooz's specialities.
Unbalanced facial appearance from the front or side
This cosmetic concern is often indicative of jaw alignment issues. Chin augmentation or reduction is one of these cosmetic procedures.
Many kinds of damage or bone deformities can be addressed and corrected with jaw surgery.
How To Know If You Need Jaw Surgery
In most cases, your dentist or your orthodontist will be able to tell if you might require jaw surgery fairly early on. Genetics plays a strong role in atypical skeletal growth.
Jaw alignment issues can come from several different origins. In some cases, the patient's upper and lower jaws may have grown at different rates. The most prevalent jaw problem in the United States is a small lower jaw, and the second most common issue is a protruding lower jaw.
Asymmetric skeletal problems are generally detectable during adolescence and are one of the other reasons for corrective jaw surgery. For example, an asymmetrical lower jaw creates an asymmetric bite, which will most likely lead to the teeth suffering more wear and tear than properly aligned teeth do. Birth defects, injuries, and other damage may also impact your jaw alignment.
We provide complimentary consultation for corrective jaw surgery at PORTH. Dr. Rooz will discuss the details of your orthodontic treatment along with your jaw surgery.
What to Expect with Jaw Surgery
When it comes time to prepare for the surgery, your dentist, orthodontist and oral maxillofacial surgeon will work together to determine the best course of action for your individual needs.
The oral and maxillofacial surgeon ultimately determines which corrective jaw surgical procedure is appropriate, and performs the surgery itself. However, it is important to understand that the treatment, which usually includes orthodontics before and after the actual surgery, may take a few years to complete.
This is a long-term commitment, and your medical professionals will do their best to realistically estimate the time required for your treatment.
Of course, every patient's situation is different in the degrees of misalignment. Your orthodontist and maxillofacial surgeon will create a specific treatment plan for you. Nonetheless, most treatment plans include specific stages.
For a small portion of patients, the surgery is performed first. In these cases, the maxillofacial surgeon performs corrective jaw surgery without pre-orthodontic care, and the orthodontist only renders the treatment after surgery.
This approach has its pros and cons, and ultimately depends on the conditions of the patient's issues. Your orthodontist and surgeon will discuss this option with you if they believe it may be applicable.
Orthodontic Treatment Before Surgery
Orthodontic treatment is typically required before and after jaw surgery. This is to prepare the bite for corrective jaw surgery and optimize the bite after the surgery.
Orthodontists often start the treatment by correcting the position of the teeth for the new position of the jaws. At this stage, the patient may notice their bite appearing more misaligned, since pre-surgical orthodontic treatment is intended to reverse all the physiological compensations for the misaligned bite. For example, some patients will have a temporary underbite before surgery. Once the surgery is complete, the patient's teeth will fit together properly.
Common Correction Procedures
Depending on the patient's needs, bone may be added, taken away, grafted, or reshaped. Surgical plates and screws are often used to hold the jaws in the new positions, while wires and rubber bands may be used in conjunction with the patient's braces to hold their jaws in their new position until the bones have healed.
To surgically correct an open bite, the plan can involve one or two jaw surgeries. The origin of open bite as well as esthetic aspects of smile determine the surgical approach to move jaws toward each other.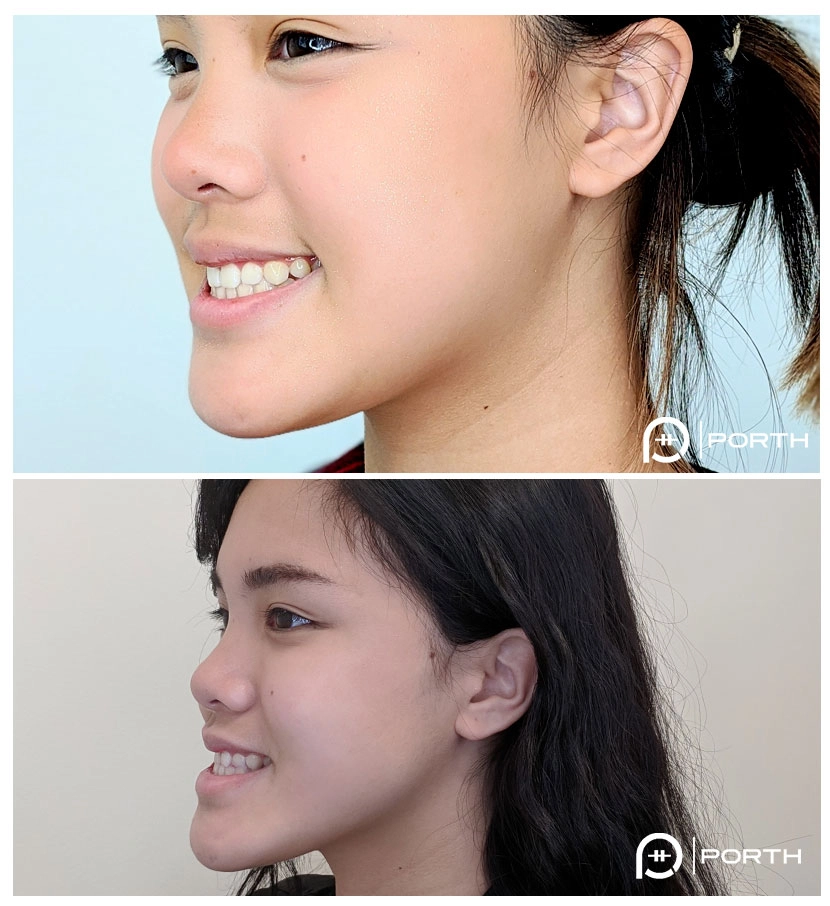 To surgically correct a protruded lower jaw, also known as an underbite, the bone in the back portion of the lower jaw is separated from the front portion of the jaw and modified so that the front, tooth-bearing portion of the lower jaw can be moved back. Moving lower jaw back is sometimes accompanied with moving the upper jaw for a better coupling and esthetic reasons.
To surgically correct a small receding lower jaw, the bone in the lower jaw is separated from its base. The tooth-bearing portion of the lower jaw and chin are then repositioned forward.
Megan's Experience with Corrective Jaw Surgery
The Recovery Process: What to Expect
Your recovery process will vary in length and difficulty depending on your own situation and the degree of correction that was needed. For example, patients that only require surgery on the lower jaw rather than both jaws will typically experience a quicker recovery.
In order to get a better sense of what your own recovery process will be like, talk to your maxillofacial surgeon about your specific case. Many jaw surgery patients have documented their recovery journeys through blogs and YouTube videos, such as this video about double jaw surgery and this video about open bite corrective surgery.
How long do patients stay in the hospital?
Jaw surgery patients can typically expect to stay at this hospital for one night. The average stay is generally 23 hours. This time gives your medical staff the chance to make sure everything is set to heal properly, and gives you time to recover from the anesthesia and make sure you are able to feed yourself.
When can I go back to work after jaw surgery?
The time it takes to return to your normal, daily life depends on the severity of your surgery and the nature of your work. Generally, patients take about 1-3 weeks off from work.
If your job requires a lot of speaking or physical activity, such as teaching, personal training, or manual labor, you will need to take a little more time off of work. If you work from home or spend most of your time working quietly at a computer, you will be able to go back to work sooner.
How long does your mouth stay wired shut after jaw surgery?
Most surgeons no longer wire patients' jaws shut after surgery. Instead, they use tight rubber bands to keep the teeth in place. Most patients have rubber bands for 3-5 weeks to help train the jaw to learn the new bite.
The bands are gradually loosened at subsequent follow up appointments with the surgeon. If you will require rubber bands for longer, your surgeon and orthodontist will be able to give you an estimated time frame.
Book a free Consultation!
Start a virtual complimentary consultation today or schedule an in-person appointment at our Sammamish or Bellevue clinic. Your first free appointment includes recommendations for orthodontic treatment.