Lingual Braces
Are you wondering about the lingual braces cost?
Lingual braces are kind of traditional braces that are attached behind the teeth. Lingual orthodontics has been around for a long time yet it is hard to find an orthodontist that offers this orthodontic appliance. Braces behind the teeth are common in adult patients. With improvements of lingual orthodontics, some teenagers are opting to use these metal braces now since they are truly invisible. Learn more about lingual braces
Lingual Braces vs Invisalign
A common question that we here at PORTH is do lingual braces do a better job compared to Invisalign – lingual braces vs Invisalign. The short answer is that both appliances can straighten your teeth. Lingual braces are extremely efficient in moving roots. With lingual brackets, you don't need to remember removing your clear aligners and not losing them. This comes at a cost of getting use to lingual braces. Some lingual bracket systems are also hard on maintaining a good oral hygiene. Lisp with both appliances are similar and hugely depends on the patient. 
Lingual Braces vs Clear Aligners
Invisalign is one type of clear aligners. Most aligners delivery similar type of care like Invisalign. As we alluded earlier, the biggest difference between lingual braces and clear aligners is the compliance. Braces that are glued back sides of your teeth are connected to the lingual wire and move your teeth all the time. You have to remember to remove and replace clear aligners at every time you eat. Lingual braces are very potent in correcting misalignments in a reasonably short period of time.  
Various types of lingual braces: Suresmile, Incognito, Inbrace, Brius
Multiple lingual orthodontic systems are on the market. One of the older popular lingual brackets is incognito which is a custom fit archwires. Relatively newer types of braces that are installed on backs of your teeth are Suresmile, inbraces and Brius. Suresmile system uses custom robotic bent archwires. Inbrace uses a twisted wires. Brius is one the most advanced system on the market that move each tooth indpendent of the others. A Brius appliance is fully customized for each patient. Incognito braces are partially similar to Brius with the main difference that Brius doesn't come with a wire that needs to be changed.
Ceramic braces are an alternative partially invisible braces for patients that are not ready to commit to lingual braces. It is also interesting to see adult patients are even ready to opt for traditional metal braces these days.
Am I a good candidate for lingual braces?
Lingual braces have a few unique advantages. This system is the only truly invisible orthodontic treatment. Braces bond behind the teeth are highly efficient in fixing deep overbite in a shorter treatment time. The forces induce from the back of the teeth works better in moving the lower or upper front teeth into the bone to eliminate the deep overbite.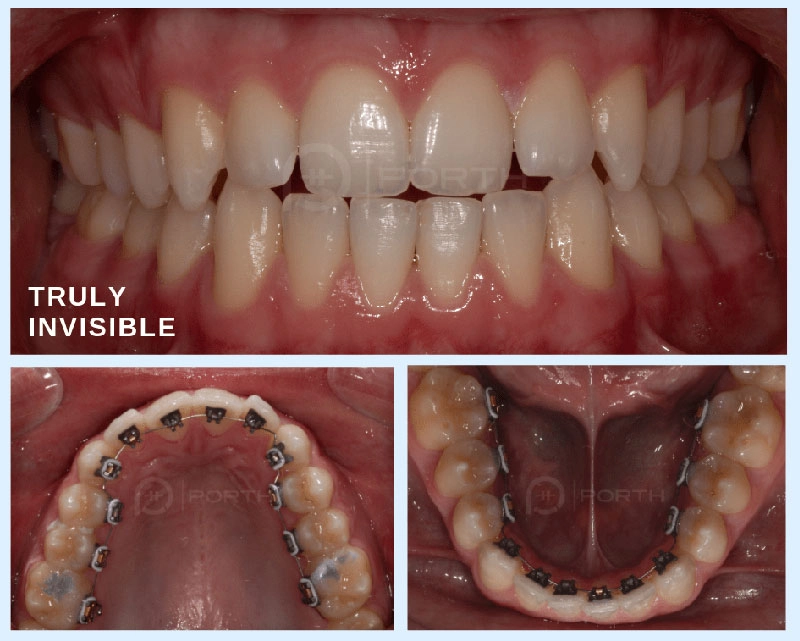 How much is the cost of lingual braces?
Finally, the cost of lingual orthodontics. The short answer is that lingual braces need a high investment compared to clear aligners, invisalign, and metal braces. There are a very limited number of orthodontists in a community that offer such services. The technique sensitive nature of lingual brackets derives the higher cost of this treatment option. Nonetheless, most insurance plans cover orthodontic treatment independent of the appliances used by the orthodontist.
Consult with the orthodontist in your community that offer lingual orthodontics. You would be surprised that most of them accept your insurance plan and also offer in-house payment plans to offset what is not covered by your dental insurance policy. Hidden braces are more expensive but they are very capable in correcting complex orthodontic issues like an underbite.
Orthodontic treatment done by lingual braces compared to regular braces both are required retainers at the end of the treatment. 
The short answer is the lingual braces will most likely cost more than Invisalign. High quality orthodontic treatment with clear aligners like Invisalign is also not cheap. Consult with a few local orthodontist to get a range for the cost of Invisalign or clear aligners, then you can decide whether the higher investment worth the orthodontic care with a lingual appliance. Treatment time and not dealing with challenges associated with aligners are the primary reasons for most of our patients opting to use a lingual system.